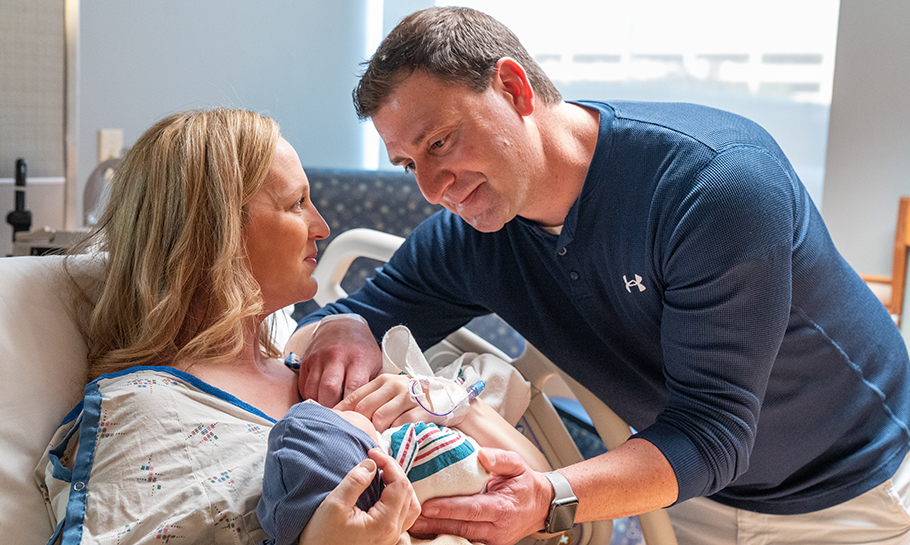 One of the most treasured moments for a woman is the birth of her baby. Doctors and nurses at SIH Memorial Hospital of Carbondale's Birthing Center find this so rewarding. For them, it's not just another day on the job. It's their mission to make this experience about you. This sentiment is one reason SIH Memorial Hospital of Carbondale is nationally recognized for patient experience. This will be one of the most memorable times of your life, and we're here to make sure it happens safely and comfortably.
Birthing Rooms
Our birthing rooms are spacious and private, and equipped with everything needed to deliver your baby. Labor, delivery, and immediate recovery happen in the same space. Several of these rooms are equipped with Jacuzzi tubs to help you relax. If this is a feature you desire, please let your nurse know.
Mother/Baby Suites
Following your immediate recovery in a birthing room, you'll be moved to a comfortable mother/baby suite for the rest of your stay. Nearly all of these suites are private, but five of them can be converted to doubles, should the need arise.
You'll recover in these rooms, and start the journey of getting acquainted with your baby, who can stay in the room with you as much as you wish.
Rooming-In
During your stay, we ask that you keep your baby in your room with you. This will allow you (and any others) to not only become more familiar with your child.
Call 618-549-0721 for more information. Or, if you're ready, choose a physician now.
Birthing Center Upcoming Classes